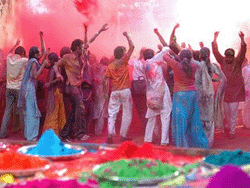 Holi is a spring religious festival celebrated by Hindus. In West Bengal and Orissa of India it is known as Dolyatra (Doul Jatra) or Basanta-Utsav (spring festival). The most celebrated festival is that of the Braj region, in locations connected to the god Krishna: Mathura, Vrindavan, Nandagaon, and Barsana. These places have become tourist destinations during the festive season of this festival, which lasts here to up to sixteen days.
It is celebrated by people throwing coloured powder and coloured water at each other. Bonfires are lit the day before, also known as Holika Dahan (burning of Holika) or Chhoti Holi (little Holi). The bonfires are lit in memory of the miraculous escape that young Prahlad accomplished when Demoness Holika, sister of Hiranyakashipu, carried him into the fire. Holika was burnt but Prahlad, a staunch devotee of god Vishnu, escaped without any injuries due to his unshakable devotion. Holika Dahan is referred to as Kama Dahanam in South India.
It's celebration in Utter Pradesh
Barsana is the place to be at the time of this festival. Here the famous Lath mar Holi is played in the sprawling compound of the Radha Rani temple. Thousands gather to witness the Lath Mar holi when women beat up men with sticks as those on the sidelines become hysterical, sing Holi Songs and shout Sri Radhey or Sri Krishna. The Holi songs of Braj mandal are sung in pure Braj Bhasha. Holi played at Barsana is unique in the sense that here women chase men away with sticks. Males also sing provocative songs in a bid to invite the attention of women. Women then go on the offensive and use long staves called lathis to beat men folk who protect themselves with shields.