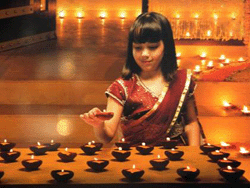 Diwali or Deepavali, popularly known as the "festival of lights".For Hindus, Diwali is one of the most important festivals of the year and is celebrated in families by performing traditional activities together in their homes. Deepavali is an official holiday in India,
Diwali commemorates the return of Lord Rama, along with Sita and Lakshman, from his fourteen-year-long exile and vanquishing the demon-king Ravana. In joyous celebration of the return of their king, the people of Ayodhya, the Capital of Rama, illuminated the kingdom with earthen diyas (oil lamps) and burst firecrackers.
While the story behind Deepavali and the manner of celebration varies from region to region (festive fireworks, worship, lights, sharing of sweets), the essence is the same – to rejoice in the Inner Light (Atman) or the underlying Reality of all things (Brahman)..
Lakshmi Puja
Deepavali marks the end of the harvest season in most of India. Farmers give thanks for the bounty of the year gone by, and pray for a good harvest for the year to come. Traditionally this marked the closing of accounts for businesses dependent on the agrarian cycle, and is the last major celebration before winter. Lakshmi symbolizes wealth and prosperity, and her blessings are invoked for a good year ahead.
Diwali in other parts of the world
Diwali is celebrated in various parts of the world, particularly those with large populations of Indian and Hindu origin. These include countries such as Sri Lanka, Myanmar, Thailand, Malaysia, Singapore, Indonesia, Australia, New Zealand, Fiji, Mauritius, Kenya, Tanzania, South Africa, Guyana, Surinam, Trinidad and Tobago, Canada, the United Kingdom and the United States. With more and more Indians now migrating to various parts of the world, the number of countries where Diwali / Deepavali is celebrated has been gradually increasing. While in some countries it is celebrated mainly by Indian expatriates, in others it has become part of the general local culture.