Azhuganni
PANI THAANGI, KOSU VETTI, PANI NAAKKI (TAMIL)
It is related to Sun and so can be used for Surya Dosha.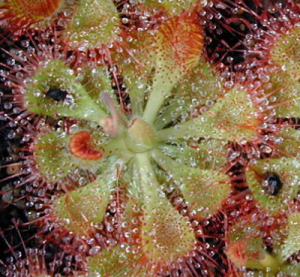 It is also called as Mukhjali in folk name.
D. Burmannii survives by eating insects. Drosera Indica and Drosera Peltata also grow in Tamil Nadu.
IT IS HELPFUL IN KALPA SAADHANAS.
Their leaves are always moist. D. Indica can be used in making Gold Bhasma.
Azhuganni is one of the Vasiya (Influencing) herbs.
The dye from this plant gives red colour to papers.
THE JUICE OF THE LEAVES CURDLES MILK.
IT VOLUNTARILY GROWS IN SOIL WHERE SHORTAGE OF NITROGEN IS PRESENT.
MOSQUITO REPELLENT
They should be planted in pots and kept at home as they eat mosquitoes and other insects.
AVAILABILITY
They grow on Agasthya Malai, Kolli Malai, Pachchai Malai and Velli Malai, Kurumpuram, Soonambedu, Meloor and Kovai district.