Ankola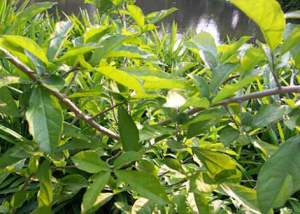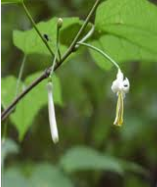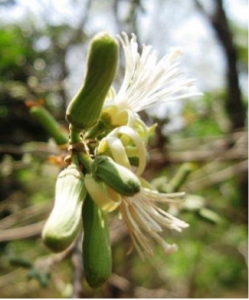 Sage Leaved Alangium (Alangium salviifolium)
It is a tall thorny tree native to India.
GRAINS STORAGE
We can use leaves of ankola [Alangium salviifolium Lam.] to preserve grains like maize, sorghum and ragi in his
house. Cow dung is smeared on the walls of a bamboo basket and the leaves and grains are arranged in alternate
layers. When the basket is full, it is sealed with dung. He says that about one kg of ankola leaves are required for
storing 20 kg of grains. The leaves protect the grains from insects. The cap of the storage bin should be sealed with
dung every time after taking out the required amount of grains.
LEPROSY
Boil the ground leaves in 2 glasses of water and reduce to a glass and drink.
VRIKSHAYURVEDA PRAISES THIS TREE AND ITS OIL.
EVIL VIBRATIONS
Small sticks of this tree can be tied at the entrance of a house to prevent evil vibrations.
SPECIALTY IN SPROUTING SEEDS AT THE FASTEST TIME
The collyrium from seeds is called as Angola Mai. This can speed up the capacity and time of
sprouting of seeds. Mango, Paddy, Ragi can be mixed with this ointment and planted after
worship. Tribals state that they sprout in one or two hours.
ENTRANCE DOOR OF HOME
The top frame of an entrance door should be made of Ankola tree as per Hinduism.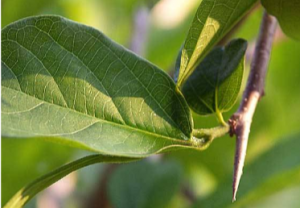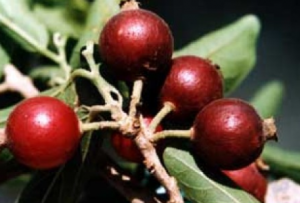 The seeds also yield oil which is used as an illuminant.
Cultivation:
New plants of ankol are mostly raised from seed. But this tree can also be multiplied from cuttings and air layering. The rate of growth is, however, slow. This tree has been referred in the Sivaananda-lahari and following is the translation of the explanation by KanchiMahaperiyavar, Sri ChandrasekharendraSarasvathiSwamigal:
Ankolamnija-beejasantatir
Ayaskaantopalmsoochikaa
(Sivaananda-lahari, 61)
"Just as: the seed of azhinjil (or ankola) tree merges with the parent tree; the iron needle is attracted
towards the magnet; the creeper grows around the tree; and the river merges with the ocean: Bhakti is the constant immersion of the mind in the thoughts of the lotus feet of Pasupathi (or Siva).
It is stated that there is a tree called EruAzhinjil. Its fruit ripens, falls on the ground and breaks open.
Then the seeds from the fruit, attracted as it were by a sort of force of gravity, move and attach themselves to the parent tree. Thereafter it is said that these seeds form part of the latter and disappear from sight. We, who have become separated from Bhagwan (God) should similarly gravitate towards Him; and ultimately become one with Him."
RABIES
Decoction prepared from roots of Azhinjil or Ankolam (25 ml – 30 ml) twice a day or fresh root juice in the dose of 5 ml to 10 ml thrice a day for twenty days can cure toxicities of rabid bite as per Traditional healers.